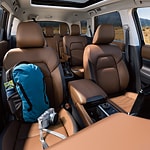 Nissan has always been a leader in the automotive industry, and their new Pathfinder here at Beaverton Nissan is no exception. This vehicle is packed with advanced safety features that protect you on the roads of Beaverton, OR.
Anti-lock brakes: These brakes can help you avoid a collision or at least reduce the severity of one when a vehicle loses control.
Stability control: A stability control keeps your Nissan Pathfinder stable on the road, even in treacherous conditions. It can help you avoid a rollover.
Tire pressure monitoring: This system monitors the pressure in your tires and alerts you when it gets too low. This tire pressure monitor helps you avoid a blowout and keep your Nissan Pathfinder running smoothly.
Active headrests: These headrests move up and forward in the event of a rear-end collision, protecting your head and neck from injury.
Front and rear airbags: These airbags deploy during a collision, providing extra protection.