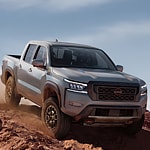 If you're in the market for a new truck, you may wonder what the 2022 Nissan Frontier here at Beaverton Nissan in Beaverton, OR offers. When it comes to exterior features, the Nissan Frontier is packed with them. Here's a look at what to expect from the new Nissan Frontier.
Grille: The grille on the new Nissan Frontier has been completely redesigned. It's now larger and more aggressive looking, giving the truck a more powerful appearance.
Headlights: The headlights on the new Nissan Frontier are also larger and have a more modern look. They're LED headlights, so you can expect them to be both bright and energy efficient.
Tailgate: The tailgate on the new Nissan Frontier is wider and taller than the previous model, making it easier to load and unload cargo.
Wheels: The wheels on the new Nissan Frontier are beefier and more rugged looking, perfectly complementing the truck's overall appearance.